I've always loved pomeranians! I think it's because that's the kind of dog that my Baba (Grandma) had when I was growing up. I have met different ones in my lifetime and I always love their demeanor and how sweet they are. I think they just so gentle and cute and fluffy! :) I can't wait to get one!!!!
Well.....I won't have to wait too long because my hubby (being the good hubby he is) wanted to surprise me for a graduation present with giving me one! But I spoiled his surprise. I came home when he was on the phone with the breeder! ha ha - It's too big of a surprise anyway for him to not have me involved would not be good in picking out a puppy. I'm so excited...we're going to see the breeder on the 21st to meet the puppy and pick him up. I've decided to name him Tegan. Here are some pics that she emailed me of the puppy...
ahhhhhhhhhh soooooooo cute....ha ha ha ah ah ha!!!!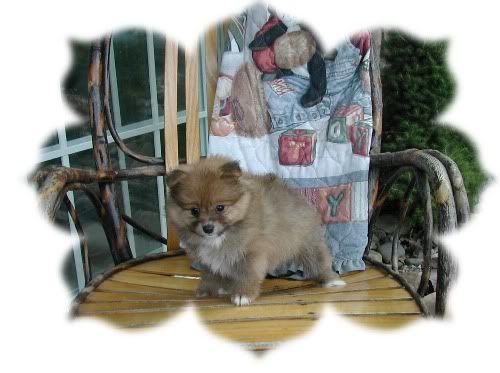 He's going to turn a red sable color when his puppy coat sheds and the breeder says he'll look more foxy than teddy bear-ish but he's soooooooo cute!!!!
We've decided simultaneously one day in the car when we were listening to Tegan & Sara that we wanted to name the puppy TEGAN!!!!! I love the name! I think it's Scottish! Ryan lovessssss Scotland. Anyway, so that's the name we chose but I'm sure the little fluffernutter will have TONS of nicknames!!!! eeeeeeeeeek! I can't wait to meet him and squeeze him. Haha!
What a great graduation present!!!! Thanks Ryan!