With Christmas right around the corner a lot of people are starting their christmas shopping already! My friend Katrina, who is a mega shopper/coupon clipper/domestic goddess sent me this information about www.ebates.com.
Click here to join!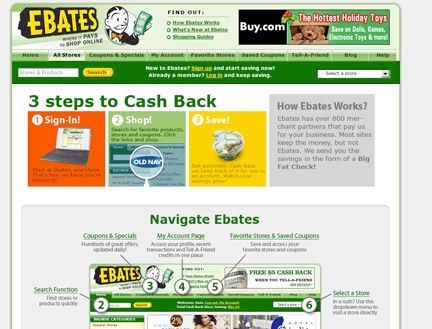 If you sign up (and use my email as a referral - niciweave@gmail.com) you'll get a giftcard at Target, Sephora, Best Buy, iTunes or just $5 cash. The site is basically a way to earn cashback when you shop through their site at major stores. If you're a big online shopper this would be totally worth it to you. Target, Walmart, Zappos, Best Buy, Circuit City, Nordstrom, Macy's to name a few...are all stores that you can shop at and earn money just for shopping through ebates. It's so cool. They have every store listed so all you would do is simply click on say Gap, for instance and then ebates will give you 3% back for your purchase! They have over 800 merchants that partner with them and pay them back for listing them on their site and then ebates keeps track of your purchases and gives you cash back! They also have great deals and coupons listed on their site!
Do your christmas shopping online this year and SAVE b-i-g! Thanks Katrina!!! Good find! I just thought I'd share!!!