I work in an office where you can dress a little more creatively and you can wear jeans which is soooooo nice!!!!! So this is my business casual outfit...ha ha!!!
I recently bought 2 scarves from Urban Outfitters so today I'm wearing the London scarf. I'm totally obsessed with trying to tie it just right. It's kind of frustrating at first but then somehow I just said "ah, no more, this is ok". Fun fun fun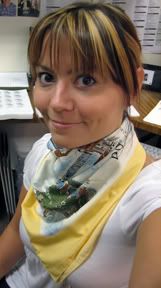 Also I'm having a lot of fun with these skinny, zipper jeans. I love how they look with my wedges...so fun!
...and here is the purse that I'm carrying today to complete the look...